Belgium as the center of Europe
Belgium is at the center of the EU. It is not only the geographic center of the EU, but also the political center – In Brussels, where the European Commission, the European Parliament, the Council of Ministers, and other EU institutions are headquartered. Antwerp has the second largest port in Europe and a sophisticated highway network, laying the foundations for industry and commerce.
In addition, since it is a multilingual region, the country has high-quality human resources needed for international business operations. For this reason, it is attractive as a control tower and distribution hub for developing business in Europe, and thus far many foreign-affiliated companies have entered the market.
Basic information
Country name
Kingdom of the Belgium
Area
30,528 ㎢
(about one-twelfth of Japan)
Population
11,4 million people (2019)
Nominal GDP
$533.2 billion (2018)
Capital city
Brussels
Language
Dutch, French, German
Religion
Traditionally Catholic,Muslim immigrants have increased in recent years
Form of government
Constitutional monarchy
Head of State
King PhilippeAccession on July 21, 2013
Prime Minister
Sophie Wilmès
Japanese numbers
5,896(October 2018)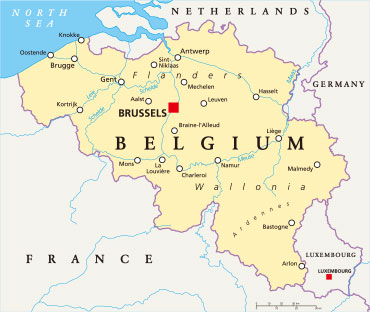 Good geographic conditions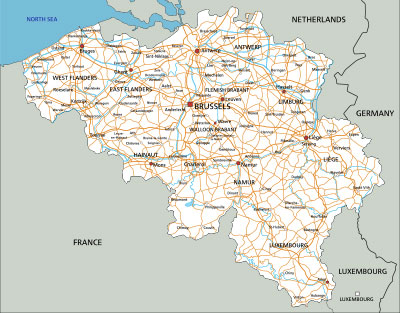 Flanders is located in the center of the Blue Bananas, a major economic zone where approximately 60% of the European market's buyers are concentrated. Large cities such as London, Frankfurt and Paris are scattered around the 500-kilometer radius of Flanders, making it accessible to countries in a short period of time using airplanes, railways and highways. From this ideal geographical location, a variety of automotive, chemical, steel, and other companies have established production and distribution bases in various parts of the country, and this industrial cluster is further enhancing the attractiveness of Flanders.
Advanced logistics infrastructure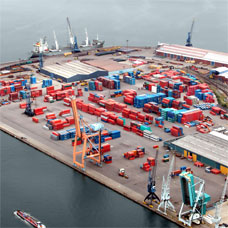 For transportation to various parts of Europe, the country is able to use its extensive logistics infrastructure. In addition to the four European gateways such as Antwerp, Seebruge, Gent, and Ostendo, there are 11 inland ports in the province, with Brussels and Ostens available for air transportation. The inland transportation networks of roads, railways, canals, etc. running in the provinces are as dense as those of the Netherlands, making freight transportation extremely convenient.
In addition to its geographic location at the heart of Europe, its highly developed transport infrastructure enables rapid delivery throughout Europe.
High-quality labor
In terms of employment, companies have high level education and are able to secure human resources who can flexibly respond to different cultures. In Flanders, where major European languages such as Dutch, German and French intersect, many people are capable of multiple languages.
Companies in Flanders will be able to smoothly develop their businesses in a multilingual business environment in Europe by utilizing human resources.
Reference:

Political and Foreign Policy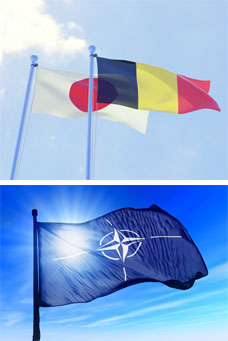 [Diplomatic Relations with Japan]
Belgium has traditionally maintained friendly relations with Japan. Relations between the Imperial Family of Japan and the Royal Family of Belgium are extremely close. Since Emperor Showa's visit to Belgium in 1921 when he was the Crown Prince, the Imperial Family of Japan and the Royal Family of Belgium have enjoyed a very close relationship across generations.
The year 2016 was greatly celebrated as the "150th Anniversary of Friendship between Japan and Belgium." His Majesty the Emperor of Japan was inaugurated as the Honorary President of the Government of Japan, and His Majesty King Philippe was inaugurated as the Honorary President of Belgium. In October, Their Majesties King and Queen Philippe visited Japan as state guests.
[Basic Foreign Policy]
Belgium places emphasis on promoting European integration and ensuring security through NATO. In recent years, Belgium has also been placing importance on emerging Asian countries.
In addition to participating in UN PKOs, Belgium has actively dispatched troops to Afghanistan, including the Robust Support Mission (RSM) and Mali.
Belgium attaches importance to economic cooperation to the former colonies of Congo, Burundi, and Rwanda.
Major city: Brussels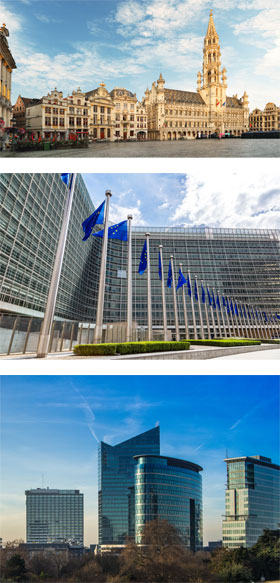 [Introduction]
Brussels is Belgium's largest city. The population is 1.21 million (2018). The city is beautiful and inscribed on the World Heritage List. It is also called "Small Paris."
[EU Capital]
Many European Union organizations are located in Brussels because their predecessor, the Headquarters of the European Atomic Community and many facilities of the European Economic Community, were located in Brussels.
The NATO headquarters are also located in Brussels.
[Economy]
Brussels is the second largest industrial center in Belgium after Antwerp. Brussels places particular emphasis on high-tech industries.
Major City: Antwerp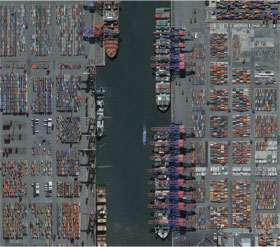 Antwerp's seaports communicate with the European Inland Waterway Network through inland canals. The port of Antwerp is characterized by excellent access to inland waterways, roads, and railways from ports.
Antwerp (Flanders state), Belgium's second-largest city, is the capital of Baroque Art that created the 17th century painter Rubens. It is a historical port town with architectural structures such as cathedrals and churches and old streets. The port of Antwerp is located at the mouth of the Suherde River.
Antwerp Port is one of Europe's leading ports. It is an excellent network linking major EU cities and plays a role as a distribution hub.
It is also the producer of petrochemical products. In the harbor, multinational chemical companies such as Bayer, Monsanto, and Nippon Catalyst have production bases. Opel also has a plant that produces 300,000 cars a year.
Restrictions on foreign investment
Item
Description
Restricted industries
The following businesses, both domestic and foreign, require prior permission from local government regulators:
・ Alcohol manufacturing and sales
・ Some medical services
・ Tobacco manufacturing and sales
・ Real estate
・ Transportation business
・ Petroleum products
・ Pharmaceutical Industry
・ Food manufacturing, processing, and sales
・ Hotel business
・ Travel services
・ Precious metal processing, etc.
Investment ratio
No regulation.
Land ownership of foreign companies
No regulation.
Capital regulations
Minimum capitalization
SA: 61,500

EUR


SPRL: 18,550 EUR
[Incentive industries and preferential investment]
System
Metropolitan Brussels
Flanders
Wallon
Priority sector
・ Life science
・ Information &  Communication Technology
・ International Organizations
(Including Industrial associations,
and NGOs)
・ Agri-food
・ Transport and Logistics
・ Life science
・ Energy
・ Information & Communication Technology
・ Automobiles
・ Bicycle
・ Chemical
・ Processed agricultural products
・ Aerospace
・ Engineering & new materials
・ Transport & Logistics
・ Life science
Investment subsidy
There is a scheme to subsidize up to 350,000 EUR per annum for investment in new projects in Brussels.
Applicants are required to submit a WBSO application in advance of the R&D activity for which the R&D activity is targeted by the applicant.
There are subsidies for companies depending on the industry sector, job creation, capital value, and location.
M&A Trends
Details of the acquisition
Headline
Publication Date
Target
Buyer
Acquisition price
(Million yen)
Form
Takeda Pharmaceutical Company Limited.(4502), Japan's No. 1 pharmaceutical company, announced the acquisition of TiGenix NV, an advanced biopharmaceutical company that develops new therapeutic agents using stem cells for the treatment of serious diseases.
The acquisition price is approximately 70 billion yen.
Takeda Pharmaceutical delists TiGenix from Euronext Brussels
2018/4/27
TiGenix NV
Takeda Chemical Industries
67,241
Acquisition
Astellas Pharma Inc. (4503) acquired Ogeda, Belgium and made it a wholly owned subsidiary.
Ogeda is focusing on developing a clinical development program called fezolinetan for patients with vasomotor symptoms associated with menopause.
Through this initiative, Astellas Pharma has strengthened its growth platform by expanding its pipeline at the clinical development stage.
Astellas acquires Ogeda
2017/4/3
Ogeda SA/NV
Astellas Pharma
99,968
Acquisition
Mitsui Chemicals Agro, Inc. acquired a 10% stake in Belchim Crop Protection NV, a Belgium agricultural chemicals company.
They are working to expand their overseas agrochemicals business as an important strategic issue for expanding their business, and are building a foundation in each region. In Europe, they have been stationed in Mitsui Chemicals Europe GmbH (Dusseldorf, Germany) in 2012. They have been negotiating a business alliance with Belchim, which has a strong sales network and development and marketing capabilities, to further strengthen their business in the region.
Mitsui Chemicals acquires Belchim Crop Protection stake
2017/2/12
Belchim Crop Protection NV
Mitsui Chemicals Agro, Inc.
Acquisition of minority interests
In July 2017, Panasonic Corporation acquired 100% of the outstanding shares of Belgium's Zetes Industries (Zetes), a leading provider of logistics, identity and mobility solutions.
Panasonic considers this to be of great significance in the field of B2B solutions, which it is focusing on. They therefore worked to strengthen their physical volume solutions to save labor and manpower in warehouses and other facilities. In addition, this will contribute to the global growth of Panasonic, along with authentication solutions such as the issuance of identities in the public sector.
Panasonic's acquisition of Zetes stake complete
2016/12/22
Zetes Industries SA/NV
Panasonic
11,880
Acquisition
Sony Corporation announced the acquisition of Time of Flight (ToF) distance sensor technology, which uses image sensors to measure distances to objects, and Softkinetic Systems (Softkinetic Systems) of Belgium, which has related systems and software. This makes Softkinetic Systems a wholly owned subsidiary of Sony.
Sony acquires Softkinetic Systems
2015/10/8
Softkinetic Systems SA
Sony
Acquisition
AR Metallizing N.V. and its group companies (ARM Group) became wholly owned subsidiaries of Nissha Printing Co.,Ltd.
AR Metallizing is Belgium's leading deposition paper manufacturer. It has production bases in Belgium, Italy and the United States, and supplies its products to approximately 300 printing companies and converters in 80 countries.
Nissha Printing acquires AR Metallizing from HIG Europe
2015/9/8
AR Metallizing NV
Nissha Printing Co., Ltd
Acquisition
Sumitomo Corporation and Sumitomo Corporation Europe Limited (headquartered in London) acquired shares in Belwind (hereinafter referred to as "Belwind") and North Wind (hereinafter referred to as "Northwind") offshore Belgium from Parkwind (headquartered in Belgium) under the umbrella of the Belgium Kolhoit Group on 30 September 2014.
Sumitomo acquires Belwind and Northwind from Parkwind
2014/10/1
Belwind NV
Sumitomo Corporation
Acquisition of minority interests