Thailand
Thailand temporarily stagnated due to the Asian currency crisis that started in 1997, but has since recovered rapidly, increasing the number of Japanese and Chinese companies entering the country. Thailand is currently maintaining a high economic growth rate and remains a leading industrial country in Southeast Asia. Thailand's GDP in 2018 was approximately $487.2 billion, making Southeast Asia's second largest economy after Indonesia.
Basic information
Country name
Kingdom of Thailand
Area
513,115 ㎢ (about 1.4 times that of Japan)
Population GDP
67.6 million (Source: IMF) in 2017
Nominal GDP
$487.2 billion
Capital city
Bangkok
Language
Thai
Religion
Buddhism, Islam, and Christianity
Form of government
Constitutional monarchy
Head of State
Rama X
Japanese nationals
72,754 (as of October 2017)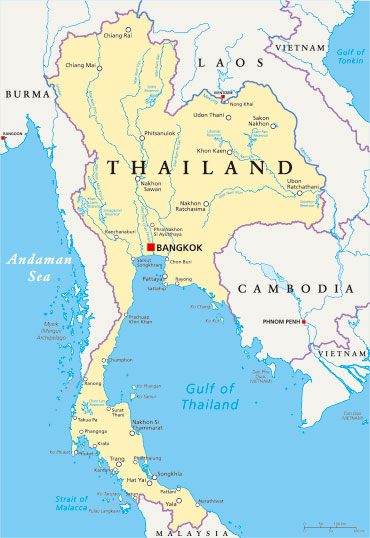 Function as a hub in Asian countries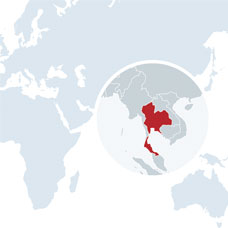 A major advantage of doing business in Thailand is that it can be used as a hub for countries neighboring Asia and for expanding into the world. Thailand is located at the center of Southeast Asian countries, including Malaysia, Cambodia, Laos, and Myanmar. In 2014, the Southern Economic Corridor, which links the southern regions of the Indochina Peninsula in Thailand, Vietnam, and Cambodia was developed. As a result, the logistics environment in Southeast Asia has improved, particularly in Thailand.
From Bangkok airports, not only do we travel within Asia, but we also have many flights to the Middle East, Europe, Africa, and other regions. Therefore, it can play a role of a hub function in the Asian market to support the economic growth of neighboring countries, which are currently growing at between 7% and 10%. Many Japanese companies have expanded into Thailand as export bases to Asia and the rest of the world.
Japan's market continues to expand due to its affinity with Japan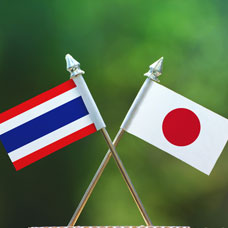 Thailand is a pro-Japan country, and demand for Japanese products and food continues to expand. The number of Japanese companies operating in Thailand is 5,400 (JETRO survey). The number of Japanese who live in Thailand is 72,754 (2017), and there are many Japanese tourists in Thailand. The market for Japanese products and services in Thailand has been expanding, and many Japanese restaurants and medical services are being developed.
In Thailand, where the health boom is growing, the popularity of Japanese cuisine is increasing due to the healthy image of Japanese cuisine. Furthermore, interest in Japan is increasing due to the popularity of Japanese cuisine, and "Japanese market" in Thailand is continuing to expand. In 2020, it is forecasted that more than half of the population will be in the middle-income segment, and high-quality Japanese products will continue to be popular.
Inexpensive business costs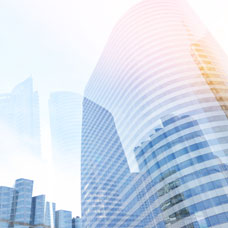 We are able to make inroads into Thailand at low cost. Thailand's labor costs are said to be about one-fourth of those of Japan. The percentage of students going on to college exceeds 40%, making it possible to develop businesses utilizing cheap and diligent labor. In addition, office rental fees are about one-fourth of those in Japan, which is cheaper than those in other Asian countries. We will develop high-value-added businesses at low operating costs, and it is likely that we will be able to realize a large profit margin even in businesses that are unlikely to generate profits in Japan. In recent years, it has been on an upward trend along with the development of the country as a whole, but it is one of the major advantages of the current situation.
Major cities: Bangkok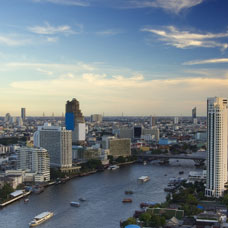 Bangkok is the capital city of Thailand. The population is 8,751,000 (2017), with an area of 1568.737 km². In 2018, the urban population exceeded 16 million, making it one of the world's largest metropolitan areas. It is also one of the largest cities in Southeast Asia.
Bangkok, Thailand's largest capital city, is the center of the Thai economy and the center of the economy of the Indochina Peninsula, including Laos, Cambodia and Myanmar. Bangkok is third biggest metropolitan area following Singapore and Jakarta in Southeast Asia.
The Metropolitan area is place for the headquarters of big companies and branches of foreign companies, as well as large-scale department stores and shopping centers. It is a source of consumer trends in Thailand.
M&A trends
The table below shows some examples of Japanese acquisitions of Thai companies over the past four years.
Headline
Date of release
Target
Buyer
Launch price
(Million yen)
Acquisition of a minority stake in Musashi Auto Parts by Musashi Precision Industry (automotive parts)
2016/12/23
Siam Cement PCL
Musashi Precision Industry
3182
Acquisition of a minority stake in Origin Property PCL by Nomura Real Estate (real estate development)
2017/7/31
Origin Property PCL
Nomura Real Estate Co., Ltd.
1354
Acquisition of Finansia Syrus Securities PCL by SBI Holdings Subsidiary (Net Securities)
2018/4/27
Finansia Syrus Securities PCL
SBI Financial Services Corporation
406
Hankyu Hanshin Real Estate Co., Ltd. acquired shares in Sendevelopment PCL.
2018/8/2
Senadevelopment PCL
Hankyu Hanshin Real Estate Co., Ltd.
211
Yamashina Corporation acquired Yamashina Bangkok Fastening from Bangkok Fastening Co., Ltd. (manufacture and sale of screws)
2015/7/31
Bangkok Fastening Co., Ltd
Mr Sutep Kongtoranin
Mr Sutut Kongtoranin
Yamacchina Corporation
148
Restrictions on foreign investment
[Regulated/Prohibited]
In accordance with the Alien Business Law (amended in 1999 and enforced in March 2000), we divide regulated industries into three categories, 43 types, and restrict the entry of foreign companies (50% or more of foreign capital) into these industries.
Jetro Page Reference URL https://www.jetro.go.jp/world/as a/th/invest_02.html
[Investment Ratio]
Enterprises with a foreign investment ratio exceeding 50% are prohibited or restricted from entering 43 types of the aforementioned industries (regulated or prohibited) under the Foreign Enterprise Law. However, there are some exceptions.
[Regulations on Capital]
Foreign companies (foreign majority) have to hold minimum capital of 2 million baht or more. However, in the case of industries requiring special permits and licences based on regulated industries under the Foreign Enterprise Law, the minimum capital is, in principle, three million baht or more. Thai companies (Thai capital majority) have no minimum capital rules.
Tax system
[Corporation tax]
In principle, the corporate tax rate was 30% on taxable income. However, the reduced tax rate was 23% for fiscal years beginning on or after 1 January 2012 and 20% for fiscal years beginning on or after 1 January 2013 and ending on or after 31 December 2015. In March 2016, the corporate tax rate was lowered, and for fiscal years beginning on or after 1 January 2016, the corporate tax rate was 20% in principle.
For self-assessment (Phor Ngor Dor 51 Form), an estimated annual taxable income is estimated as an interim tax within 60 days of the sixty-month business year, and the amount of tax based on half of the corporation tax or the interim estimated taxable income is filed and paid through a semi-annual tax return. Next, the taxpayer will file a "Phor Ngor Dor 50" tax return within 150 days after the closing date and pay the tax amount.
Please refer to the following URL for details.
Jetro Page Reference URL https://www.jetro.go.jp/world/as a/th/invest_04.html
[Taxable]
Corporations operating in Thailand must pay corporate income tax. Corporations include companies, partnerships, joint ventures, associations or foundations operating for-profit businesses, including branches of foreign companies registered under the Thai National Commercial Code. The business activities of foreign governments and their agents are also subject to income tax as corporate entities.
On the other hand, companies that do not engage in business activities in Thailand are subject to taxation only for domestic source income such as service fees, interest, dividends, rent, professional guidance fees, etc. The representative offices are deemed to be engaged in business activities in Thailand and are obliged to pay taxes. However, they are not permitted to engage in business activities, and therefore are subject to withholding tax and filing tax returns.
[Tax Registration]
Foreign companies are required to apply for tax registration of the Tax ID number with the Revenue Department within 60 days of incorporation or business registration.